Technology
There can be a lot of confusion around tire technology and the acronyms used to describe them. This page gives you a dive into the tire tech used in ONZA tires and helps you to understand what's happening inside your tire.
XCC | Cross Country Casing
The XCC casing is optimised for maximum speed and super low weight. The choice for Cross Country and Marathon riders.
super light and fast
for Cross Country and Marathon use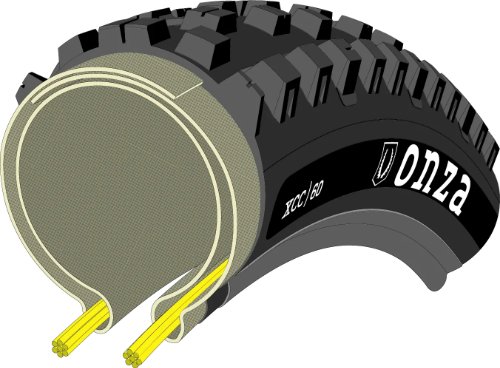 The TRC casing is the perfect compromise between low weight and puncture protection. It's the perfect choice for a wide field of application ranging from Trail to All Mountain and therefore optimal for most bikes and riding styles.
ideal allround casing
wide field of application from Trail to All Mountain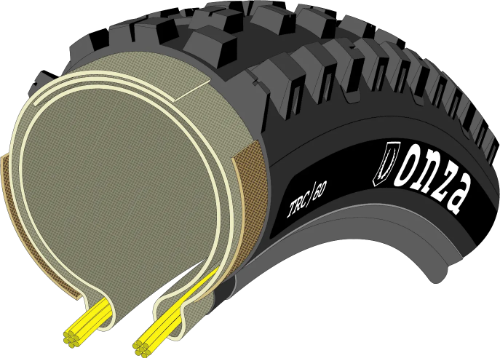 The GRC casing technology is optimized to offer the rider the best possible comfort on the trail paired with a high degree of puncture protection.
high puncture resistance
for Enduro, Gravity and E-MTB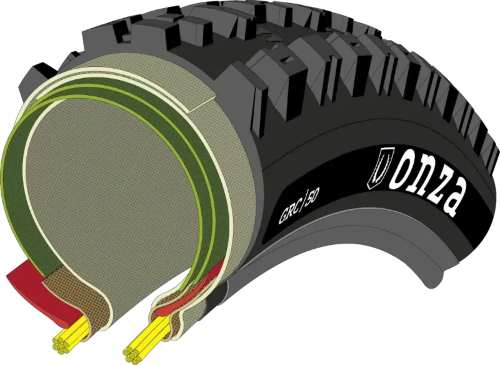 All ONZA tires feature a dual compound rubber construction, meaning they consist out of two different rubber compounds with certain properties. By chaniging these properties to each field of application maximum performance can be achieved for every tire.
Generally spoken a combination of the following rubbers is used in ONZA tires:
soft, slow rebounding side knobs
harder center tread
improved compound formula for even more grip with lower rolling resistance
harder rubber on the center of the tread for optimum rolling properties and less wear
soft 45a compound on the side knobs for extra grip in corners, even on Crosscountry
and All Mountain tires

compound formula for maximum grip with lower rolling resistance
harder rubber on the center of the tread for optimum rolling properties and less wear
soft 45a compound on the side knobs for extra grip in corners