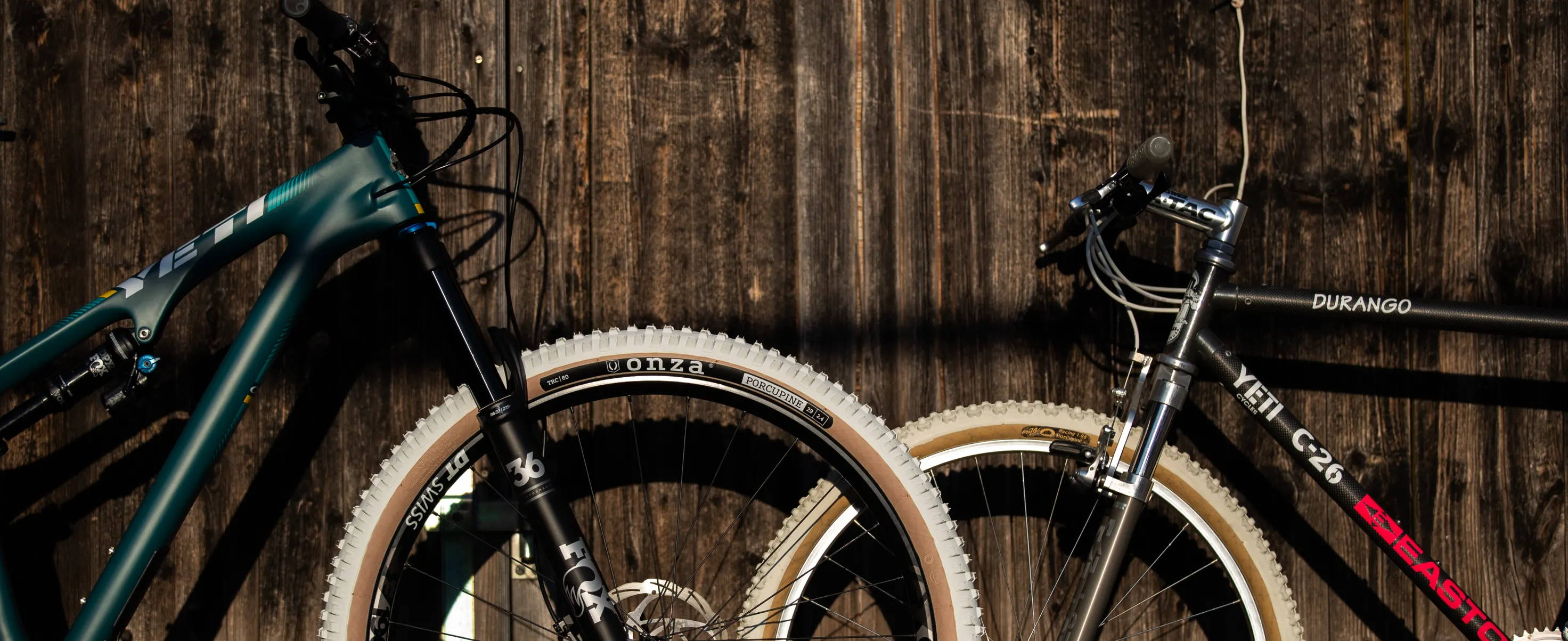 REBIRTH OF A LEGEND
In the 1990s – the golden age of mountain bike sports - the former onza® team presented numerous innovative products to the bike community. Tire models such as the RIP, the DAVE, the RAIL, and of course the PORCUPINE were at the pinnacle of tire innovation in terms of grip and performance. After more than 30 years, it is time to revive the PORCUPINE's legendary performance and achievements.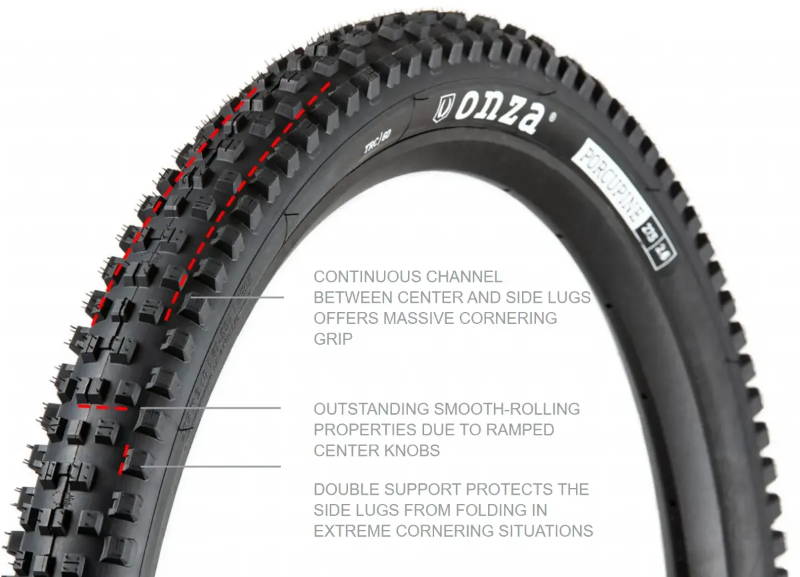 "The ONZA Porcupine is an absolute all-rounder and shows no weaknesses. "
Sacha Steiner, Ride Magazine

"The Porcupine is a first-class Alllmountain tire with good rolling resistance and excellent puncture protection."
Thorsten Illhardt, Cycleholix

"Wether black, white or natural... The ONZA Porcupine impresses on the trail both visually and in terms of performance."
Sven Schebaum, Inside MTB
The Porcupine is the ideal allrounder that works in every situation, no matter the conditions. It offers a very wide application field ranging from Tour, All Mountain or even E-Mountainbike use with our GRC casing technology.
The modern tread design of the Porcupine unites high grip, low rolling resistance and class leading durability.
With three different color options, two widths and 27.5" and 29" color options there is a Porcupine for every rider out there.
| | | | | | | | | | |
| --- | --- | --- | --- | --- | --- | --- | --- | --- | --- |
| Part # | Description | Category | Size | Weight | Casing | TPI | Bead | Rubber | Tech Notes |
| | | | | | | | | | |
| | | | | | | | | | |
| | Porcupine | white classic | | | | | | | | |
| | | | | | | | | | |
| | | | | | | | | | |
| | | | | | | | | | |
| | | | | | | | | | |
| | | | | | | | | | |
| | Porcupine | white classic | | | | | | | | |
| | | | | | | | | | |
| | | | | | | | | | |
| | | | | | | | | | |

Soft Compound 50
• lightweight 60TPI single-ply casing with Nylon sidewall protection




• moderate weight with good puncture protection




• light but strong




• foldable Kevlar beads




• Tubeless Ready TLR




• field of application: Trail, All Mountain

Gravity Casing
• 120TPI single-ply casing with 2-ply reinforcement from bead to bead
• special Nylon bead reinforcement layer
• lightweight butyl inlays
• foldable Kevlar beads
• Tubeless Ready TLR
• field of application: Enduro, Gravity, E-MTB

Medium Compound 60

• dual compound for best traction, combined with excellent rolling characteristics and outstanding longevity




• harder 60a rubber in the center of the tread for low rolling resistance




• grippy 45a rubber on the side knobs for superb cornering control




• field of application: Trail, All Mountain, XC Marathon

Soft Compound 50
• improved compound formula for more grip with lower rolling resistance and less wear
• dual compound for best traction, combined with good rolling characteristics and excellent longevity
• soft 50a rubber in the center of the tread for best traction and high grip
• grippy 45a rubber on the side knobs for superb cornering control
• field of application: Enduro, Gravity, E-MTB